The time has come...
To announce the Plenty Cookbook giveaway winner...
And...the super yummy cookbook goes to...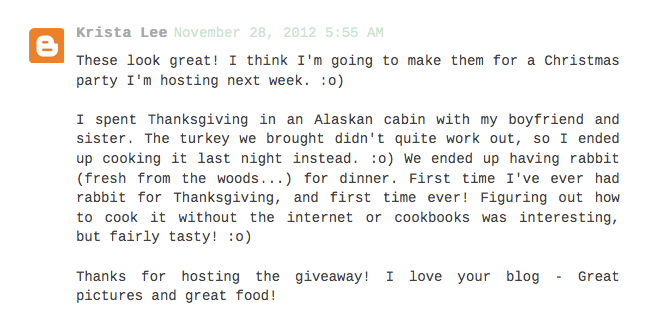 Congratulations Krista Lee from
MissCellaneous
! It sounds like you had an amazing Thanksgiving experience. Having food fresh from the wilderness that was cooked with pure creativity had to be the most gratifying meal EVER. Thank you for sharing!
To everyone else that entered, thank you so much! I loved hearing bits and pieces about your holiday and I truly wish I could give each and everyone of you a prize.
In other news...
It's currently snowing in Boston. And it's lovely. I want to curl up on the couch and watch movies all day.
I can't do such things because I'm swamped with papers and presentations.
I'm begging you to bare with me until I get myself out of this swamp of school work. I promise I'll be back soon!
Have a great weekend everyone!