Last Monday I did a little guest post over at the lovely blog,
This Heart is Mine
.
And just in case you didn't have the chance to check it out last week, I promised that I would share it here this week. I wouldn't want you missing out you know.
So, before I head off to Missouri (bright and early in the morning!) and get even slower with my blog posts...I figured now would be the best time to share this little gem as a little "please forgive me when I abandon the blog for a few weeks" type thing.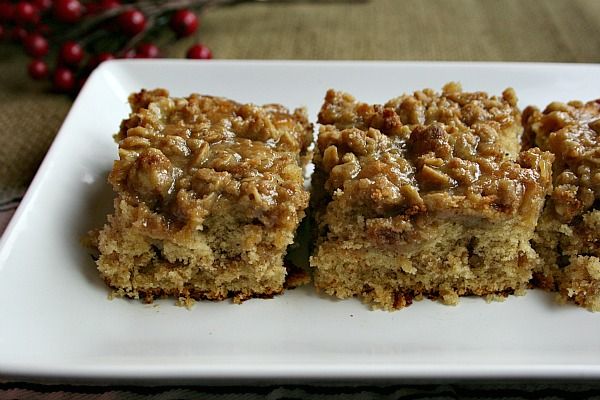 I've always been a lover of breakfast. No matter the hour of day or time of year...I need my breakfast. And if I'm deprived...you should probably steer clear.
I'm usually a light and savory type of breakfast girl. But I completely understand the glory that comes from switching it up every once in a while. It's a special occasion thing. Like when my mom makes her world famous waffles. Or when the holidays roll around. That's the time when you need a big gooey cinnamon roll or a stack of pancakes and a steaming cup of coffee to get into the holiday spirit. Nothing kills that spirit like an egg white omelet stuffed with vegetables. (Even though I'm on the egg white omelet boat 360 days a year.)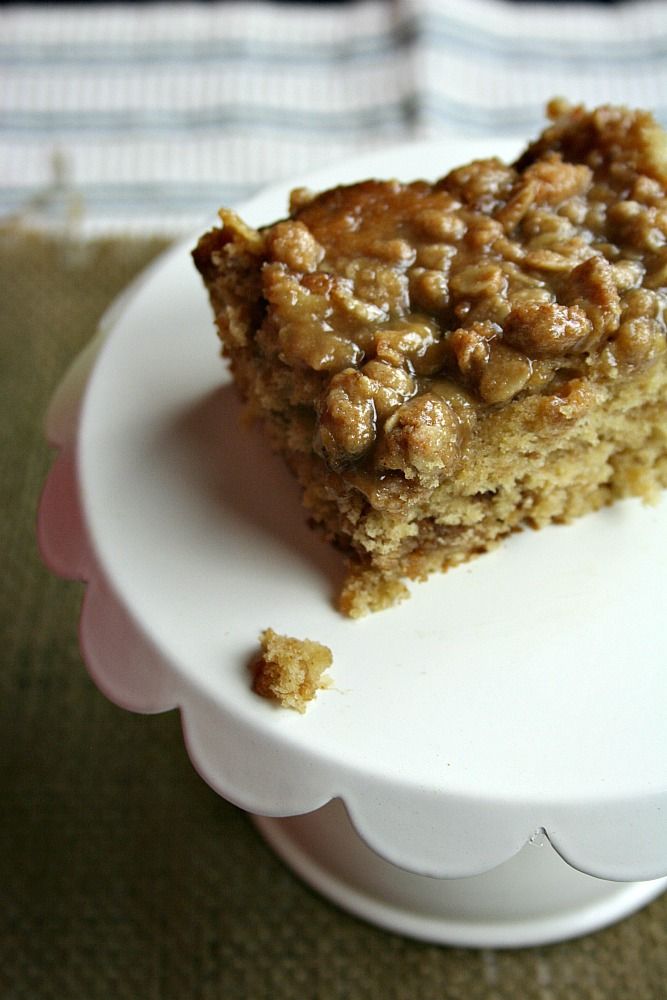 'Tis the season - Might as well eat cake for breakfast. Right? Right.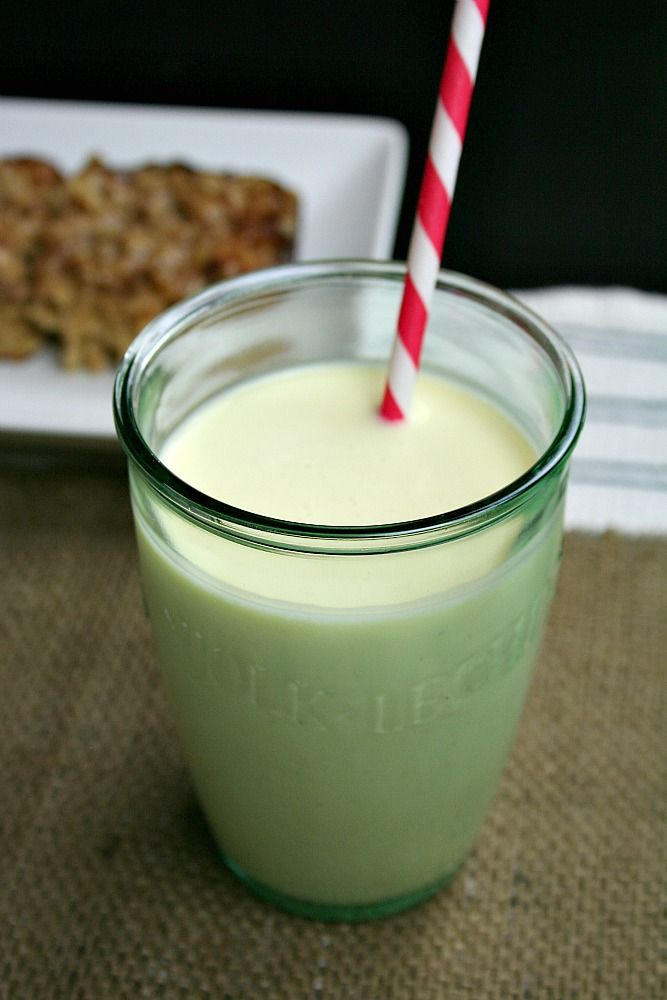 Just as I'm not usually on the sweets for breakfast bandwagon, I'm typically not on the eggnog bandwagon. But I will admit, I love the flavor.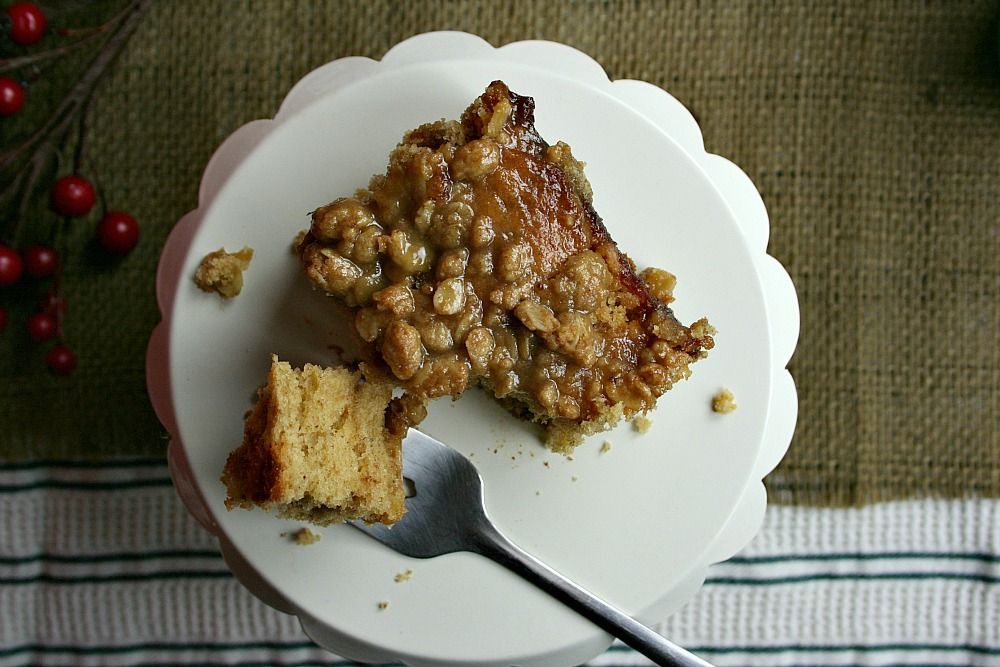 And that's why this breakfast "cake" knocks it out of the park. It's sweet. But not too sweet. The flavor of eggnog is there but you don't feel like you're drinking a big glass of heavy cream. The whole wheat flour gives it a boost in the texture department, and justifies the whole sweetness thing. It's quite perfect.
I recommend whipping up this little treat for an early morning family gathering. Or maybe a mid afternoon nibble. But of course it would also do as a late night snack. I don't want to limit you, you know.
Either way, you'll be the hit of the season.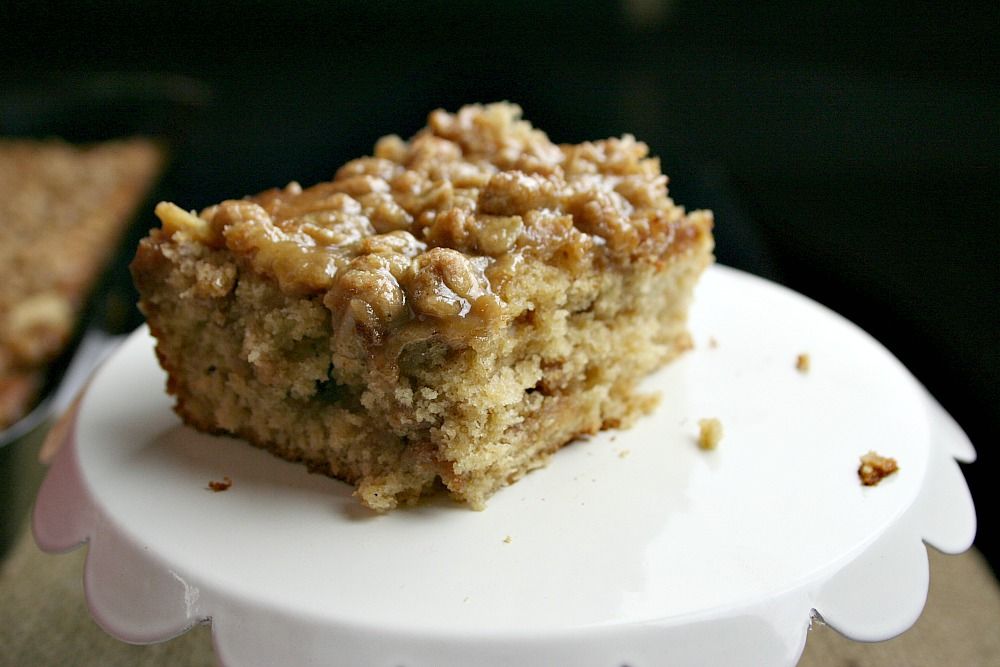 Adapted from How Sweet It Is
Makes:
one 9x13 cake
Prep Time:
10 minutes
Bake Time:
20-25 minutes
Total Time:
35 minutes
Ingredients:
for the coffee cake-
2 cups whole wheat pastry flour
1 tablespoon baking powder
1/2 teaspoon nutmeg
1/4 teaspoon salt
1/4 teaspoon cinnamon + an extra 1/4 teaspoon
1/4 teaspoon cloves
6 tablespoons unsalted butter, melted and cooled
1/2 cup loosely packed brown sugar + an extra 1/3 cup
1/3 cup granulated sugar
2 large eggs
1 teaspoon vanilla extract
1 cup eggnog
for the crumble-
1/2 cup whole wheat pastry flour
1/3 cup oats
1/3 cup brown sugar
1/4 teaspoon cinnamon
4 tablespoons unsalted butter, melted
for the eggnog glaze-
1/2 cup brown sugar
1/3 cup eggnog
1/4 cup granulated sugar
1 teaspoon vanilla extract
pinch of nutmeg
Directions:
Preheat oven to 350° and spray a 9x13 baking dish with nonstick spray or rub with butter.
In a small bowl combine 1/3 cup brown sugar and 1/4 teaspoon cinnamon, set aside. In another small bowl combine flour, baking powder, salt, nutmeg, cinnamon, and cloves, whisking to combine.
In a large bowl, add butter and sugars whisking until smooth. Whisk in eggs one at a time, mixing well after each addition. Stir in vanilla. Slowly add dry ingredients and eggnog until a batter forms and then whisk until smooth. Pour half of the batter in the baking dish and then sprinkle the brown sugar/cinnamon mixture over the top. Cover with the remaining batter, gently spreading with a spatula until even.
To make the crumble combine all ingredients in a bowl and mix until crumbly. Sprinkle evenly over cake and bake for 20-25 minutes, or until cake is set in the middle.
While the cake is baking, make glaze by heating all glaze ingredients in a small saucepan over medium heat. Allow to come to a boil and then reduce heat and let simmer for 2-3 minutes. Remove from heat and set aside until cake is finished baking.
When the cake comes out of the oven, immediately poke holes all over with a toothpick. Drizzle glaze over the top.
Cut, serve, enjoy!